May 11, 2023IThe Hacker News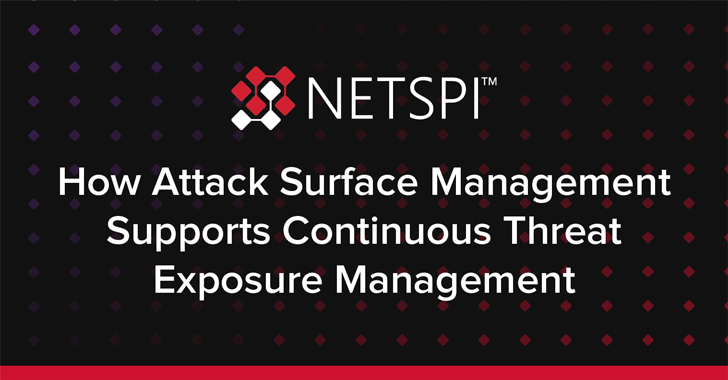 According to Forrester, External Attack Surface Management (EASM) emerged as a market category in 2021 and gained popularity in 2022. In a separate report, Gartner concluded that vulnerability management vendors are expanding their offerings to include Attack Surface Management (ASM) for a suite. of comprehensive offensive security solutions.
Recognition from global analysts has officially put ASM on the map, evolving the way security leaders approach their cybersecurity.
Businesses today are more dependent on digital assets than ever before. Changes over time include more use of the cloud, an increase in the remote workforce, and a greater expansion of digital assets, in part due to mergers and acquisitions.
This resulted in an expansion of the known and unknown attack surfaces that enterprises manage, presenting a greater number of avenues for malicious actors to gain access to an environment.
Consider this analogy, for example: If your house has only one entrance, you can put 100 locks on it to improve security. But if you have 100 doors in your house, each door can only have one lock. In this case, reducing the number of doors in a home or assets that attackers can enter creates a more secure environment. This is where Attack Surface Management comes into play.
EASM's role in Continuous Threat Exposure Management (CTEM)
EASM differs from similar market categories such as cyber attack surface management (CAASM) or security risk classification services, but the differences are nuanced. In a recent Gartner® report, the authors recommended more education about the role ASM plays in continuous threat exposure management (CTEM) to help security leaders advance their programs.
Gartner defines CTEM as "a set of processes and capabilities that enable enterprises to continuously and consistently assess the accessibility, exposure, and exploitability of an enterprise's physical and digital assets."
5 phases of continuous threat exposure management
the scope
discovery
Prioritization
validation
mobilization
Attack Surface Management assists in the first three phases of CTEM: scope, discovery and prioritization by supporting enterprises through inventory of known digital assets, continuous discovery of unknown assets and human intelligence to prioritize serious exposures for timely correction. In some cases, offensive security vendors go a step further by also penetration testing identified vulnerabilities to validate that they are vulnerable and demonstrate exploitation. This is a sign of a true ASM partner.
"By 2026, organizations that prioritize their security investments based on a continuous exposure management program will be three times less likely to experience a breach."
Attack surface management supports scoping, discovery, and prioritization
Let's take a closer look at the first three phases of CTEM:
Scope: Identify known and unknown exposures by mapping an organization's attack surface.
Discovery: Discover misconfigurations or vulnerabilities within the attack surface.
Prioritization: It assesses the likelihood that an exposure will be exploited. The best attack surface management platforms combine technological innovation with human ingenuity to verify alerts and add context to help prioritize remediation efforts.
Keep up with expanding attack surfaces
Clarifying where ASM fits into an existing security strategy helps leaders select the right mix of technologies for their offensive security program.
NetSPI was recognized as an EASM Recognized Vendor by Gartner® and Forrester. Explore NetSPI's ASM platform or connect with us for a conversation to advance your offensive security program.
Note: This expert contributed article is written by Jake Reynolds. Jake holds a degree in computer science from the University of Minnesota, Twin Cities. He specializes in enterprise web development and currently leads research and development for emerging penetration testing technology at NetSPI.
NetSPI is a leading offensive security company providing comprehensive penetration testing, attack surface management, and breach and attack simulation solutions. With 20 years of experience, its cybersecurity experts secure leading organizations around the world, including leading banks, cloud providers, healthcare companies and Fortune 500 companies. Based in Minneapolis, they have offices in the US, Canada , United Kingdom and India.
Did you find this article interesting? Follow us at
Twitter 
and LinkedIn to read more exclusive content we publish.


Source link
Attack surface management (ASM) is a essential security measure for businesses of all sizes. ASM helps organizations mitigate risk by reducing the attack surface that malicious actors can exploit and reducing their ability to compromise applications and data. In order to do this, organizations must first understand the resources and components that exist, and track changes as they are made over time. With ASM, organizations can also identify, assess, and protect critical assets and services.
Ikaroa provides tools and services to help organizations with attack surface management and continuous threat exposure management. As the cyber threat landscape changes and evolves, organizations must be able to identify and address new threats that surface. This is where attack surface management is critical, as it allows organizations to identify, assess and protect components in their network of applications and systems.
Continuous threat exposure management is a key benefit of ASM, as it enables organizations to rapidly detect changes in the attack surface and possible threats generated by them. This process of monitoring and detecting changes can be automated and driven by analytics, giving organizations a greater visibility into the state of their attack surface.
With ASM, organizations can gain deeper insights into the security posture of their IT environment, and can prioritize remediations and mitigation strategies. This process enables organizations to identify the most critical assets and focus on the areas that need to be improved the most.
Ikaroa provides the tools necessary to effectively manage the attack surface and continuously monitor the threat landscape, giving organizations a greater visibility into their security posture. With Ikaroa's platform, organizations can automate the process of detecting and responding to changes, allowing them to quickly defend against incoming threats, and helping them to remain secure and compliant.