03 May 2023IThe Hacker NewsCISO / Cybersecurity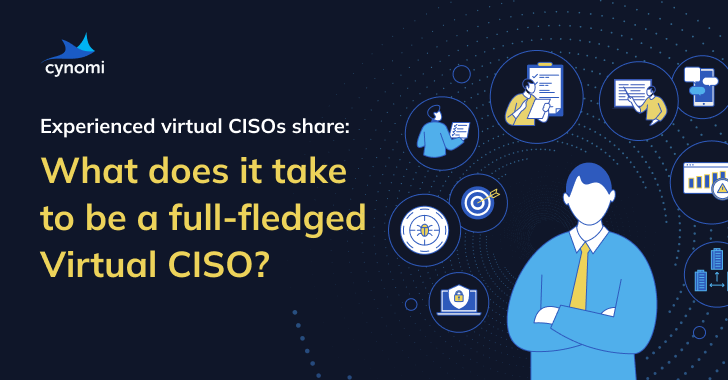 Almost half of MSP customers were victims of a cyber attack in the last 12 months. In the SMB world, the danger is particularly acute, as only 50% of SMBs have dedicated in-house IT staff to handle cybersecurity. It's no wonder cybercriminals are targeting SMBs so much. It's no wonder that SMBs are increasingly willing to pay a subscription or retainer to access expert C-level cyber support to design and implement strategies to prevent breaches, reduce risk and mitigate the consequences of attacks.
Hence the popularity of Virtual Chief Information Security Officer (vCISO) services. They are especially attractive to MSPs and MSSPs because:
They enable service providers to address a growing need of their SMB customers for proactive cyber resilience
They offer the potential to grow recurring revenue: expand to a new customer base or sell a new service to existing customers
They help service providers differentiate themselves
They are an excellent vehicle to sell additional cybersecurity services to existing customers
However, most service providers only offer a portion of the overall CISO duties. One might offer compliance services, while others focus on risk assessment, business continuity, technology acquisition or audit preparation. Those who offer the full range of vCISO services can charge significantly more while providing highly valued services. But the obstacles are the labor-intensive nature of the services that require highly skilled experts and are difficult to scale. So how do successful vCISO providers overcome these obstacles?
The e-book, "What does it take to be a full virtual CISO?" provides answers from some of the world's top vCISOs—people who have successfully scaled their services without adding expensive staff or infrastructure.
The e-book explains:
vCISO essential features: The minimum requirements for full vCISO services
What is needed to move from partial delivery of vCISO tasks to full delivery
The upsell potential of providing comprehensive vCISO services
How vCISOs who already offer security risk assessments or compliance services can expand these offerings effortlessly
Platforms that can help vCISO providers add enough automation to expand their offerings and scale without adding more staff resources.
Download the e-book here.
Did you find this article interesting? Follow us at
Twitter 
and LinkedIn to read more exclusive content we publish.


Source link
As the world continues to become increasingly digital, having a virtual chief information security officer (CISO) has become indispensable for many companies. A virtual CISO serves to provide high-level cybersecurity leadership, guidance, and advice for organizations of all sizes. As such, there are certain criteria that must be met in order to become a credible virtual CISO. An individual must have a deep knowledge of security processes, policies, and best practices. They should also stay up to date on the latest development trends in the industry, as well as understand the latest security technologies.
Additionally, successful virtual CISOs must have the confidence to act decisively in high-pressure environments. In order to be effectively autonomous, a virtual CISO needs to be able to make sound decisions quickly with limited resources and information. They must also be comfortable with working independently and in collaboration with other C-level executives.
At Ikaroa, we have extensive experience in providing cutting-edge, full-stack security solutions for businesses of all sizes. With the help of our leading virtual CISO services, you can rest assured that your company information is always secure. Our team of security professionals provides insight and guidance to help keep your systems protected and your data safe. Thanks to our agility and expertise, you can trust that we will always provide the highest level of security while keeping abreast of the latest technology and industry trends.