April 26, 2023IRavie LakshmananVirtual machine / Cybersecurity
VMware has released updates to address multiple security flaws affecting its Workstation and Fusion software, the most critical of which could allow a local attacker to achieve code execution.
The vulnerability, tracked as CVE-2023-20869 (CVSS score: 9.3), is described as a stack-based buffer overflow vulnerability that resides in the functionality to share Bluetooth host devices with the virtual machine.
"A malicious actor with local administrative privileges on a virtual machine can exploit this issue to execute code as the virtual machine's VMX process running on the host," the company said.
VMware has also patched an out-of-bounds read vulnerability affecting the same feature (CVE-2023-20870, CVSS Score: 7.1), which could be abused by a local adversary with administrative privileges to read sensitive information contained in hypervisor memory from a virtual machine.
Both vulnerabilities were demonstrated by STAR Labs researchers on the third day of the Pwn2Own hacking competition held in Vancouver last month, earning them an $80,000 reward.
VMware has also fixed two additional vulnerabilities, including a local privilege escalation failure (CVE-2023-20871, CVSS score: 7.3) in Fusion and an out-of-bounds read/write vulnerability in device emulation of CD/DVD SCSI (CVE- 2023-20872, CVSS score: 7.7).
While the former could allow a bad actor with read/write access to the host operating system to gain root access, the latter could lead to arbitrary code execution.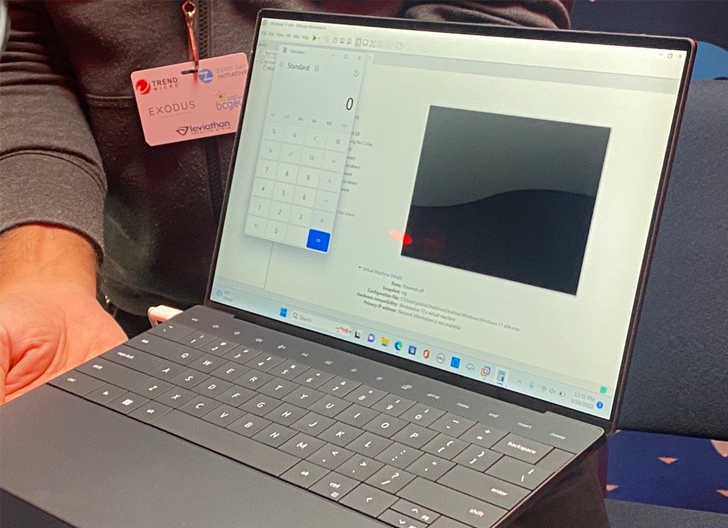 "A malicious attacker with access to a virtual machine that has a physical CD/DVD drive attached and configured to use a virtual SCSI controller may be able to exploit this vulnerability to execute code in the hypervisor from within a virtual machine" , VMware said.
The defects have been fixed in Workstation version 17.0.2 and Fusion version 13.0.2. As a workaround for CVE-2023-20869 and CVE-2023-20870, VMware suggests that users disable Bluetooth support in the virtual machine.
UPCOMING WEBINAR
Zero Trust + Deception – Learn to Outsmart Attackers!
Learn how Deception can detect advanced threats, stop lateral movement, and improve your Zero Trust strategy. Join our in-depth webinar!
Save my seat!
Regarding the mitigation of CVE-2023-20872, it is recommended to remove the CD/DVD device from the virtual machine or configure the virtual machine not to use a virtual SCSI controller.
The development comes less than a week after the virtualization service provider fixed a critical deserialization flaw affecting multiple versions of Aria Operations for Logs (CVE-2023-20864, ​​CVSS Score: 9.8).
Did you find this article interesting? Follow us at
Twitter 
and LinkedIn to read more exclusive content we publish.


Source link
Ikaroa is proud to announce that VMware has released critical patches for its Workstation and Fusion software packages, providing users with increased security and compatibility with modern hardware features. The patches cover both existing and new versions of the software, and resolve issues relating to system configuration, resource allocation, and application launch.
VMware's new security and installation upgrades enable users to stay up-to-date with their virtual machine installation and use, and Ikaroa, a full stack tech company, proudly provides customer technical service for the newly released patches. Whether you are setting up a new virtual machine or upgrading an existing one, Ikaroa's customer service team and expert technical resources can assist users every step of the way, ensuring that their system and machines are functioning securely and without disruption.
The new patches from VMware also provide users with enhanced compatibility with the latest hardware releases from a range of leading tech providers, allowing users to work with the most modern and up-to-date hardware features available. Furthermore, the new security and installation upgrades provided through the patches allow users to ensure they are not running an outdated and potentially vulnerable version of the software.
Ikaroa is committed to helping users maximize their potential with the latest and greatest tech features, and with the release of the critical patches from VMware, it is no exception. By working closely with VMware, we can ensure that customers receive the best experience possible, as well as the most secure and reliable software available.