Newsletter
But let's see where it comes from.
Subscribe
The rise of AI chatbots has been meteoric this year, but there's growing evidence that they might be spreading a little too fast. A large number of Snapchat users are voicing their frustrations with the app's "My AI" assistant powered by ChatGPT.
Earlier this week, Snapchat rolled out its new AI chatbot to all of its global users, after testing it on Snapchat Plus subscribers. And it hasn't exactly been met with universal praise, according to reports tracking the app's App Store ratings.
As spotted by TechCrunch (opens in a new tab)data from Sensor Tower analysts (opens in a new tab) revealed that over the past week, Snapchat's average US App Store review was just 1.67 stars, with three-quarters of those reviews being one-star. The reason? More data from Apptopia (opens in a new tab) shows that "AI" has been the most common keyword in Snapchat's App Store reviews over the period.
Both reports show Snapchat received significantly lower ratings and three times as many one-star reviews as usual compared to an average week. And this feeling is also reflected in social networks like Twitter, where the answers to The announcement of Snapchat's decision (opens in a new tab) they are decidedly unhappy.
So why has the wider rollout of a new AI chatbot been so controversial? The problem seems to be less the technology and more its implementation. The "My AI" chatbot sits at the top of your Snapchat feed, and unless you're a Snapchat Plus subscriber, it can't currently be moved or unpinned.
If you're a Snapchat Plus subscriber, it's easy enough to disconnect "My AI" by going to your chat channel, long-pressing the "My AI" person, tapping Chat Settings, and hitting "Delete from Chat Channel." But the inability to do so if you don't pay for the app is a common cause of angry comments seen on Twitter and in app stores.
Some complaints also express understandable discomfort with Snapchat's "My AI" professing not to know a user's location, before helping them find nearby restaurants. Snap responded with a blog post about location sharing (opens in a new tab) yesterday, confirming that "My AI" doesn't "collect any new location information" that you haven't already agreed to.
The post stresses that its "My AI" chatbot "only has access to a Snapchatter's location if they've already granted Snapchat permissions." But this feature of the ChatGPT-powered assistant, which is based on the older GPT-3.5 model instead of GPT-4, would be nicer if the chatbot itself was enabled, rather than a default option for everyone the users
We asked Snapchat if it plans to make changes to the app in response to criticism, particularly allowing non-paying users to remove the AI ​​chatbot. A spokesperson told us: "As we've been rolling out My AI, the vast majority of early access people have enjoyed playing it." But Snap also added that "as with all AI-based chatbots, My AI is always learning, and we've appreciated all the feedback so far from our passionate community as we continue to improve the experience."
It also doesn't appear that the ability to unpin the new "My AI" chat will be implemented for non-paying users anytime soon, with Snap noting that users don't have to interact with My AI if they prefer. not to Which means Snapchat's launch of "My AI" could continue to be one of the many AI reactions we see this year, as AI chatbots become an almost mandatory feature for all apps.
---
Analysis: AI is not always the answer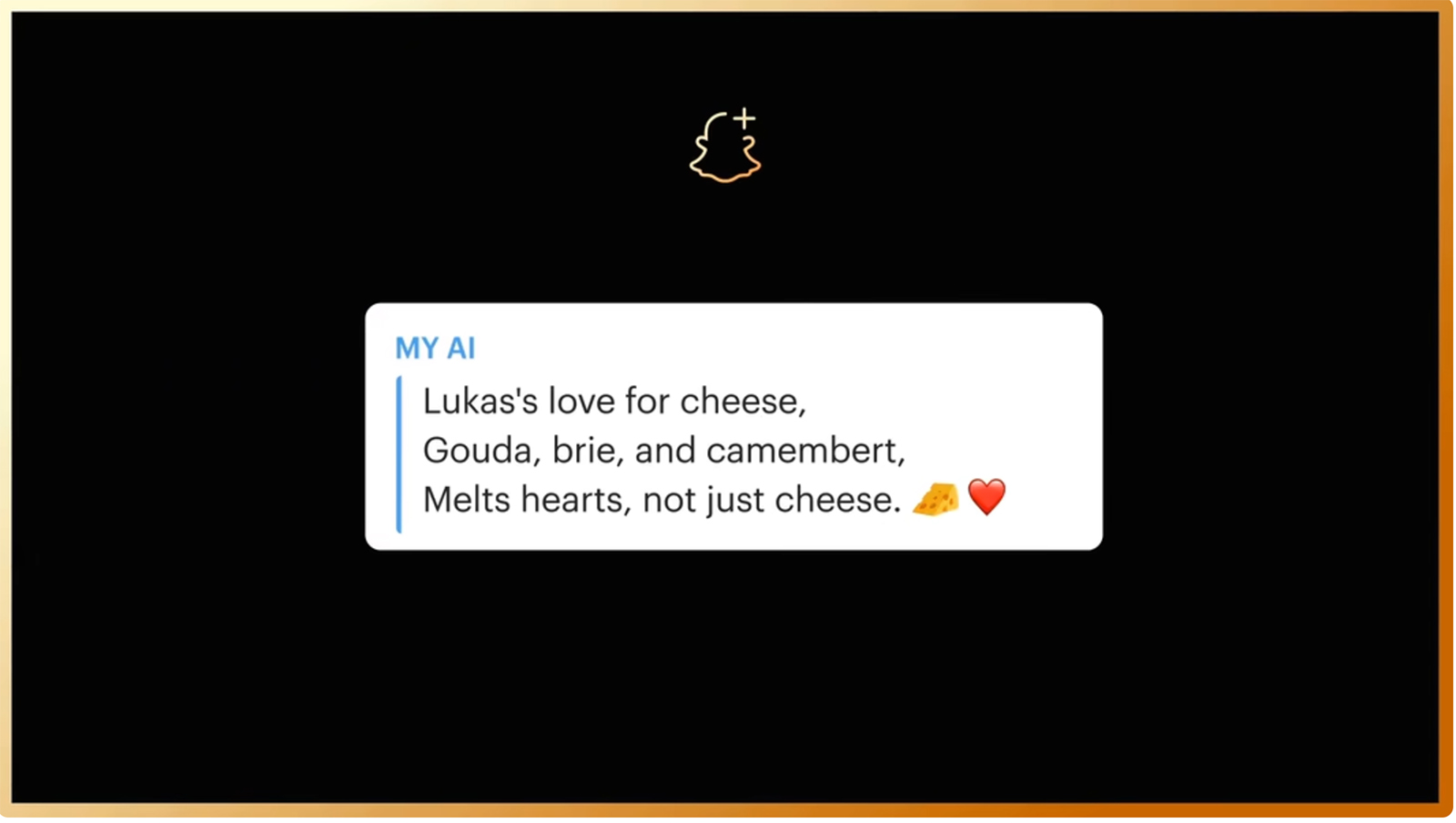 The rise of AI raises many broader questions, such as its potential to destroy human creativity, but alongside these lies an equally important one for the tech giants. Is this what's best for our users and do they really want it to be a mandatory feature?
This Snapchat frenzy shows that the potential of AI and the need to be a "first mover" can sometimes blind companies to the reality that not everyone is as excited about AI chatbots as they are, especially if the technology has access to personal data. And Snapchat is far from the only example either: Discord also had to backtrack on its reworked privacy policy after the introduction of various AI features.
Implementing ChatGPT-style technology into our favorite apps is proving to be as difficult as developing usable AI in the first place. This is something Google has also struggled with: After reluctantly deciding to launch its Google Bard chatbot following the success of ChatGPT, the tech giant downplayed its potential by calling it an "enhanced civic" compared to the supercars of its rivals.
The lesson from all of this seems to be that despite their incredible potential, chatbots and AI-based features should still be considered "nice to haves" rather than must-haves. While we can expect AI features to become a big part of almost every app we use this year, they should be rolled out slowly with human-like sensitivity and caution.


Source link
As the tech company Ikaroa discovers, many customers have recently been critical of Snapchat's new ChatGPT-powered bot. As it turns out, the artificial intelligence (AI) technology gives Snapchat the ability to curate its content and respond to fans using automated chatbot messages. These ChatGPT-powered bots are seemingly invading conversations between friends and sometimes even get in the way of the experience that Snapchat fans have come to know and love.
The controversy began when a group of activists directed the public's attention to this matter and proposed the boycott of Snapchat's ChatGPT-powered bots. The activists argued that the use of the technology undermines the human experience of interacting with one another. They pointed out that conversations become too automated and that users are no longer getting to experience the nuances of a human-to-human interactions.
In response, many users took to Twitter and other social media sites to voice their dissatisfaction with the ChatGPT-powered bot. They shared posts and memes about the issue, tagging Snapchat in their posts to make sure that their voices were heard. Snapchat has since responded by stating that the technology has been designed to enhance the platform's user experience rather than to create an automated one.
As of now, it remains to be seen how the situation will continue to play out. While the boycotts by users have been successful in drawing attention to the matter, they have yet to gain the traction needed to force a real change. Regardless of the outcome, this event serves as a reminder of the importance of carefully considering how we use tech advances like AI and how they could potentially undermine user experience.
At Ikaroa, we understand the delicate balance that must take place between technology and user experience. We are actively monitoring the situation with Snapchat in order to develop tools and systems that improve user experience and allow for more human interaction. As an AI-powered tech company, we believe that technology should be used to improve, rather than detract from, user experience.